Warning
: Illegal string offset 'status_txt' in
/home/abbesgen/simpleeatsfood.com/wordpress-1/wp-content/plugins/share-and-follow/share-and-follow.php
on line
1168
Warning
: Illegal string offset 'status_txt' in
/home/abbesgen/simpleeatsfood.com/wordpress-1/wp-content/plugins/share-and-follow/share-and-follow.php
on line
1168
Warning
: Illegal string offset 'status_txt' in
/home/abbesgen/simpleeatsfood.com/wordpress-1/wp-content/plugins/share-and-follow/share-and-follow.php
on line
1168
Warning
: Illegal string offset 'status_txt' in
/home/abbesgen/simpleeatsfood.com/wordpress-1/wp-content/plugins/share-and-follow/share-and-follow.php
on line
1168
Warning
: Illegal string offset 'status_txt' in
/home/abbesgen/simpleeatsfood.com/wordpress-1/wp-content/plugins/share-and-follow/share-and-follow.php
on line
1168
Warning
: Illegal string offset 'status_txt' in
/home/abbesgen/simpleeatsfood.com/wordpress-1/wp-content/plugins/share-and-follow/share-and-follow.php
on line
1168
Warning
: Illegal string offset 'status_txt' in
/home/abbesgen/simpleeatsfood.com/wordpress-1/wp-content/plugins/share-and-follow/share-and-follow.php
on line
1168
Warning
: Illegal string offset 'status_txt' in
/home/abbesgen/simpleeatsfood.com/wordpress-1/wp-content/plugins/share-and-follow/share-and-follow.php
on line
1168
Warning
: Illegal string offset 'status_txt' in
/home/abbesgen/simpleeatsfood.com/wordpress-1/wp-content/plugins/share-and-follow/share-and-follow.php
on line
1168
Warning
: Illegal string offset 'status_txt' in
/home/abbesgen/simpleeatsfood.com/wordpress-1/wp-content/plugins/share-and-follow/share-and-follow.php
on line
1168
Say that one five times fast!
I've been lucky enough to have parents who love travelling and decided to tote me around as a wee little one on all of their European excursions. I seriously consider myself blessed to have that opportunity!
Even though I recently went on a vacation, the travel bug has hit me again. Over the past few months, I've been thinking about certain places I want to go in the world, and my travel bug hit even harder when I saw this post on Iowa Girl Eats. That girl and I see eye to eye.
Travel is not as big of a part of this blog as I want it to be, so I guess that means I need to go on more trips, huh?
So, I decided to list my top ten places to visits before I die.
1. Egypt
I need to see the Pyramids. I feel like I would cry at the mere sight of them. I can't even wrap my mind around how they constructed these crazy structures. And in that heat?!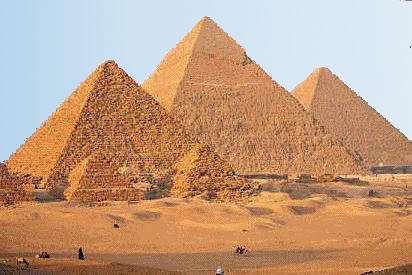 2. West Coast
OK, I know it's not an actual place but there's so many things I want to see on the West coast! I've only been to California once, and I think the sparkling lights of Vegas are a must, and the coast of Oregon is something I can't go without seeing.
3. The Great Barrier Reef
Can you even imagine seeing such beauty? The water is like glass it's so clear! I've never snorkeled before, but I'm pretty sure this would be the place to do it.
4. Greece
There's nothing like the stark white buildings against the cobalt blue ocean. Oh, and the olives and feta don't hurt either.
5. The Amazon Rain Forest
I'm allergic to mosquitoes, so I probably wouldn't survive one minute in this place, but I can only imagine how breathtaking it is. Monkeys, parrots, waterfalls? I'm sold.
6. The Dead Sea
I've always been intrigued by the dead sea's supposed healing properties. Supposedly the mud and the water in the sea can treat things like psoriasis! I'll float in it!
7. Corcovado, Brazil
My parents went to Brasil and said it was one of the most beautiful places they've ever been. I want to stand up there and take in this view!
8. London
I studied abroad here in college and it was one of the best decisions I've ever made. Even though I spent three months there, I need to spend more time there. The city is chock full of things to do and places to see. Take me back!
9. Polynesia
I just kind of wanna sit here. And drink out of a coconut.
10. New Orleans
I may not get any beads, but I definitely want to sink my teeth into the beignets. A few ganders down Bourbon St. doesn't sound half bad either.
What places do you want to see before you die?