Warning
: Illegal string offset 'status_txt' in
/home/abbesgen/simpleeatsfood.com/wordpress-1/wp-content/plugins/share-and-follow/share-and-follow.php
on line
1168
Warning
: Illegal string offset 'status_txt' in
/home/abbesgen/simpleeatsfood.com/wordpress-1/wp-content/plugins/share-and-follow/share-and-follow.php
on line
1168
Warning
: Illegal string offset 'status_txt' in
/home/abbesgen/simpleeatsfood.com/wordpress-1/wp-content/plugins/share-and-follow/share-and-follow.php
on line
1168
Warning
: Illegal string offset 'status_txt' in
/home/abbesgen/simpleeatsfood.com/wordpress-1/wp-content/plugins/share-and-follow/share-and-follow.php
on line
1168
Warning
: Illegal string offset 'status_txt' in
/home/abbesgen/simpleeatsfood.com/wordpress-1/wp-content/plugins/share-and-follow/share-and-follow.php
on line
1168
Warning
: Illegal string offset 'status_txt' in
/home/abbesgen/simpleeatsfood.com/wordpress-1/wp-content/plugins/share-and-follow/share-and-follow.php
on line
1168
Warning
: Illegal string offset 'status_txt' in
/home/abbesgen/simpleeatsfood.com/wordpress-1/wp-content/plugins/share-and-follow/share-and-follow.php
on line
1168
Warning
: Illegal string offset 'status_txt' in
/home/abbesgen/simpleeatsfood.com/wordpress-1/wp-content/plugins/share-and-follow/share-and-follow.php
on line
1168
Warning
: Illegal string offset 'status_txt' in
/home/abbesgen/simpleeatsfood.com/wordpress-1/wp-content/plugins/share-and-follow/share-and-follow.php
on line
1168
Warning
: Illegal string offset 'status_txt' in
/home/abbesgen/simpleeatsfood.com/wordpress-1/wp-content/plugins/share-and-follow/share-and-follow.php
on line
1168
If you would have told me when I was on high school that  I'd have a food blog when I was in my twenties, I would have thought you were crazy. When I was younger, I hated everything food related. But, I guess food runs in my blood. Seriously. Not one person in my family hasn't been in the food business.  So, here I am, writing about food every day! You can read more about my story, here. 
I first got into food by way of a few pretty cool foodie ladies, who I'd love to meet some day.
1. My momma (Obviously, I know her!)
She taught me everything I need to know in the kitchen. She whipped my butt into shape by training me when she owned a deli and everything she makes is absolutely amazing. Some would call her the soup nazi, like on Seinfeld. Seriously, no one can top her soup.
2. Paula Deen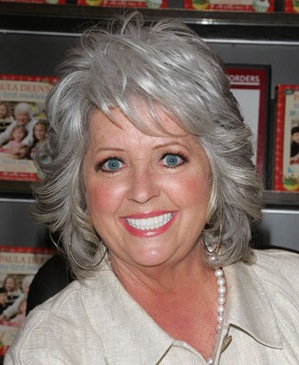 Yes, I love this woman. Since my mom's side is from the South, I took to her theory about butter making everything better. This woman has been through so much and she's still just as jovial and happy as ever. I've tried tons of her recipes, and they're nothing short of incredible.
3. Ruth Reichl
I've talked about her before , and I'll talk about her again. This woman used to be the editor of Gourmet and used to write restaurant reviews for The New York Times. There's no other writer like her out there and she will completely pull you in when you read her material. She's definitely my writing inspiration.
4. Rachael Ray
Love her or hate her. People either find her hysterical or obnoxious, but I still love her. Although I think her peak was when she wasn't doing her talk show, I still get inspiration from her recipes and I think it's admirable that she made cooking accessible for everyone. Plus, her dog, Isaboo, is adorable.
What women have inspired you in regards to health and food?